Year 12 students are breathing a sigh of relief after the NSW Government confirmed school formals and graduation ceremonies would be allowed to take place from November 12, the day after the last HSC written exam.
School principals were issued COVID Safety Plans on Friday consisting of a range of guidelines, including that students may take a date to their Year 12 formal - and even dance with that person.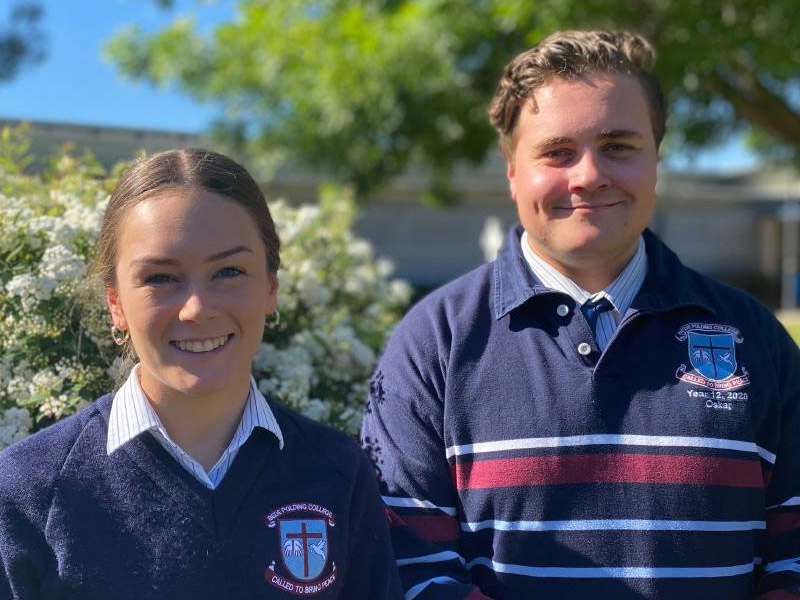 Capping off the year: Bede Polding College school captains Kayla and Oskar are excited to be able to attend their Year 12 formal.
But dates won't be possible for students at schools including Colo High at North Richmond, which holds its Year 12 formal at a venue that - when adhering to the restrictions on gatherings under the Public Health Order - won't have enough space for anyone outside of the Year 12 cohort.
"We hold our Year 12 formals at Riverside Oaks, which has to stick to the one-person-per-four-square-metre rule, so we're capped at 96 people [that can attend]," Colo principal Mark Sargeant said.
"We have 91 [students] enrolled [in Year 12], and when you add a photographer that leaves four positions for staff."
Despite the restrictions, student leader Alannah said "it means a lot" to be able to celebrate the end of schooling with her fellow students.
"It's awesome news, it means we can get together as friends and celebrate the end of the year," she said.
"It's really rewarding - especially after everything [that's happened this year] - being able to celebrate as a year group and wish people well for the future."
Fellow Colo student leader Jeremy said when it was initially announced in August that school formals would be banned, everyone in his class was "devastated" - particularly those who had already bought their formal outfits.
He said he thought overturning that ruling and allowing Year 12 formals to proceed was "the right decision" by the NSW Government - particularly considering students had already been spending classes and lunch breaks together during the year.
"My only concern is the teachers: I would really like all teachers from Year 12 to be able to attend," Jeremy said.
"I am so happy and glad we can celebrate and have the formal."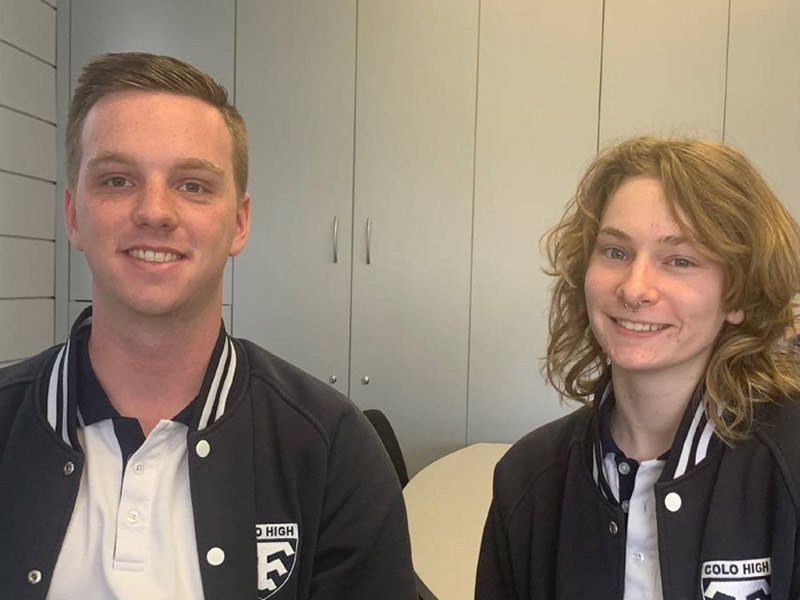 Looking forward to celebrating: Colo High School student leaders Jeremy and Alannah. Picture: Supplied
Over at Bede Polding College in South Windsor, school captain Kayla said she thought it was important to have "a final year send-off".
"We won't be seeing many of these people for the rest of our lives and to be able to say goodbye in the proper way [is important]," she said.
Fellow Bede Polding captain Oskar said the news that formals and graduation ceremonies were back on the table was "a pleasant surprise".
"Considering everything that's happened this year, it's nice when something good goes your way," he said.
Under the NSW Government guidelines for graduation ceremonies, each student can invite two people from their immediate family or household - as long as there is enough space at the venue which must adhere to social distancing requirements.
Both Colo High and Bede Polding will be looking at live-streaming their Year 12 graduation ceremonies this year, to allow extended family and friends to be involved in a remote manner.