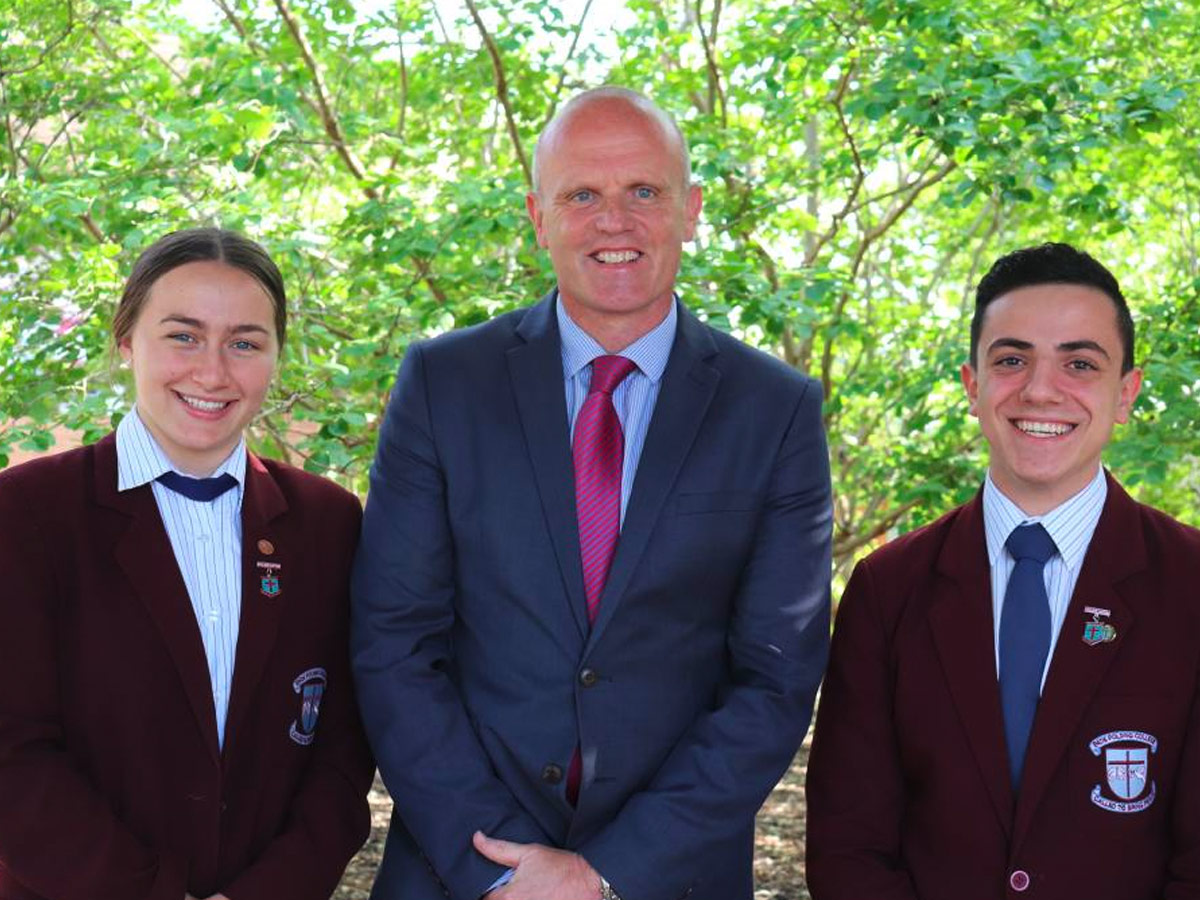 SHOWING THE WAY: Bede Polding College principal Mark Compton with captains for 2021 Joel Zahra and Annabel Bruzzese.
Bede Polding College would like to congratulate the recently inducted Senior Executive Leadership Team, and in particular college captains for 2021, Joel Zahra and Annabel Bruzzese.
The team of leaders were inducted into their roles at a special College Assembly, broadcast around the school and to parents via webinar.
The Student Executive Team comprises 20 Year 12 leaders, with portfolios such as Catholic Identity, Stewardship, Student Wellbeing, Communications, Technology, Creative and Performing Arts, Events, Representative Sport, and School Spirit.
In their short time as leaders this term, they have already been hard at work co-ordinating special events and projects and serving their school community. Their collaboration skills and enthusiasm have already been noted.
College principal Mark Compton said 2020 has brought many challenges to teaching and learning.
"But it has also shown what as a resourceful, resilient and agile community we have become, able to respond to change with confidence and purpose," he said.
"Our staff are tireless in their efforts to provide the best educational opportunities in the Hawkesbury, and have continued to create spaces for our students to shine in cultural, sporting and community service endeavours, even in the midst of a pandemic.
"We have had incredible success with our debating and public speaking teams this year, our wonderful Duke of Edinburgh program continues and our staff have engaged with some extensive professional development to incorporate contemporary pedagogical approaches into their teaching practices."
Mr Compton said the introduction of the college's wellbeing program in 2020 could not have been better timed. "We have embarked on a journey which has been inspired by 'The Resilience Project', and is underpinned by the three pillars of gratitude, empathy and mindfulness," he said.
Bede Polding College strives to be a dynamic, harmonious Catholic community that values and encourages each member to strive for personal excellence. They encourage each individual to believe in their self worth, challenged by the College motto: Called to Bring Peace.
---
Learn what we offer at Bede Polding