The community of Bede Polding College has a rich tradition of care. We have countless social justice activities taking place each year.
The students at Bede Polding College are provided with opportunities which demonstrate a willingness to serve, give and to pay forward deeds which do not seek recognition or receive reward. As Catholics we cherish a commitment to social justice, and are informed by Catholic Social Teachings. Reflection, prayer, and action around social justice issues are the essential characteristics of a life lived according to the Gospel of Jesus Christ. Our social justice work at BPC has local, national, and global perspectives.
---
Reflection on Scripture
The fact that human beings are created in the image of God and have been redeemed by Jesus Christ through his death and resurrection means that they have a fundamental dignity. It is this dignity that must be upheld by our collective efforts.
Then God said, "Let us make mankind in our image, in our likeness, so that they may rule over the fish in the sea and the birds in the sky, over the livestock and all the wild animals, and over all the creatures that move along the ground." So God created mankind in his own image, in the image of God he created them; male and female he created them. Genesis 1:26-27
Micah, a prophet of the Old Testament, names the three essential elements of the Christian mission.
This is what Yahwek asks of you -
To Act Justly
To Love Tenderly
and to Walk Humbly with your God. Micah 6:8
Throughout the school year, many initiatives will occur that will seek to steer the efforts of Bede Polding College towards recognising and supporting the needs of others. Relevant social justice issues will be highlighted through curriculum initiatives which will seek to embed such issues into the teaching and learning programs.
---
Prayer
At Bede Polding College, we see social justice as the underlying principle for a peaceful, harmonious working community.
We invite you and your families to share the following prayer.
Almighty and merciful God,
whose Son became a refugee
and had no place to call his own;
look with mercy on those who today
are fleeing from danger,
homeless and hungry.
Bless those who work to bring them relief;
inspire generosity and compassion in all our hearts;
and guide the nations of the world towards that day
when all will rejoice in your Commonwealth of justice and of peace;
through Jesus Christ our Lord.
Amen.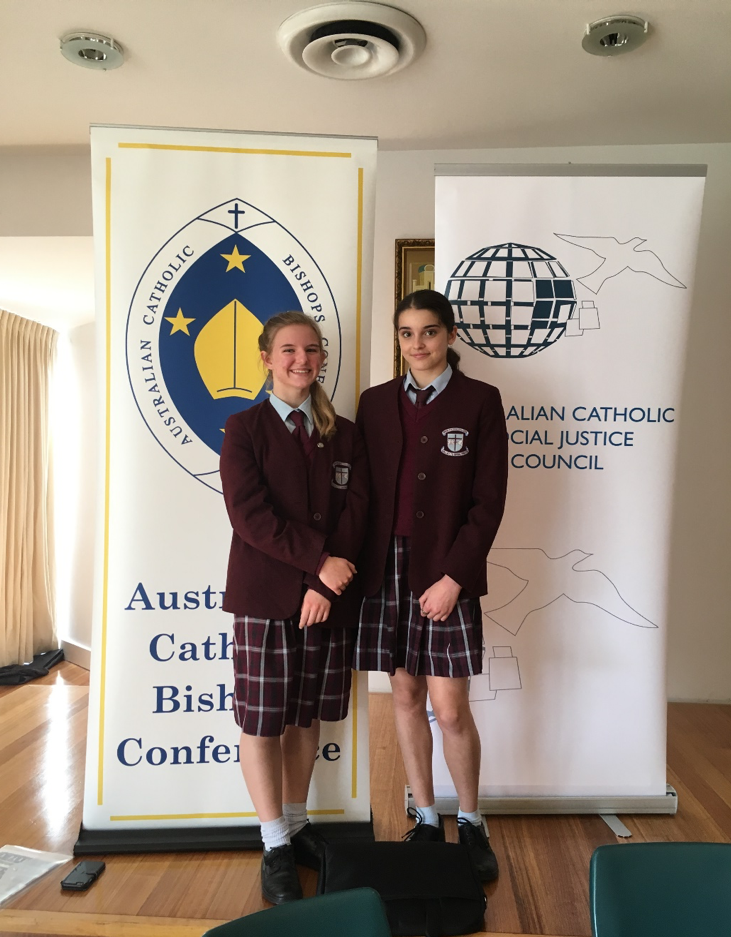 ---
Actions
Each year group supports a nominated charity. These charities are
Year 7 | Good Sam's Foundation
Year 8 | Mary MacKillop Today
Year 9 | Edmund Rice Centre
Year 10 | Marist 180
Stage 6 | Youth Off The Streets
SRC | San Miguel Family Centre, Richmond
Incursions and excursion are organised regularly to extend our students' understanding of the need for inclusiveness for all members in our communities. Some examples of these experiences include
The Sydney Jewish Museum (Human Rights and Bullying programs)
Edmund Rice Centre (Justice Literary Event)
Human Flow: A Refugee Experience
Australian Catholic Social Justice Council's annual Catholic Social Justice Statement launch
CEPD Bishop's Statement annual launch
Ethical Leadership days for student leaders
Our staff and students have also demonstrated an ongoing commitment to supporting the Vinnies Winter Appeal and Sleep out, the Vinnies Christmas Appeal, Caritas Project Compassion and Hawkesbury Community Care.