Former Bede Polding student nominated for ARIA
26 Nov 2020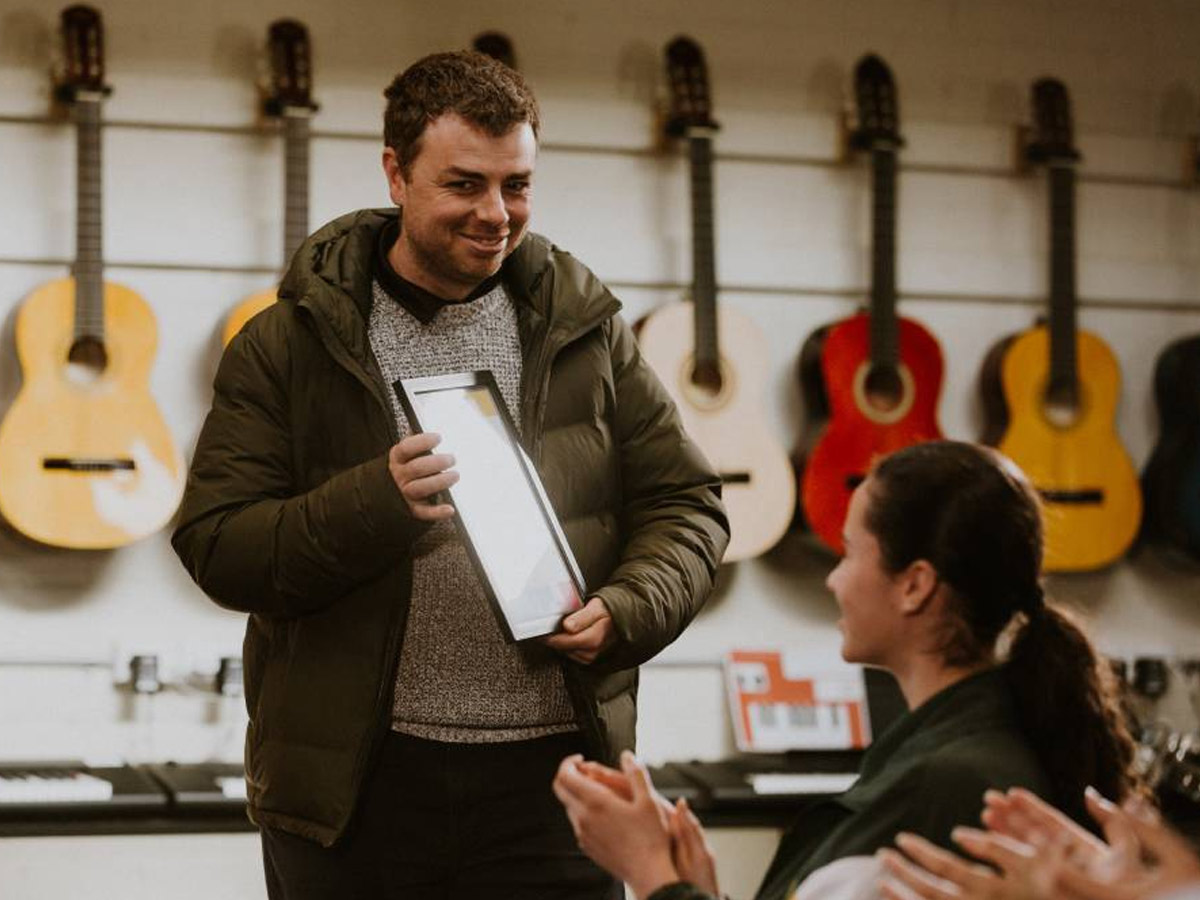 Picture: Oliver Minnett
Dr Thomas Fienberg, a music teacher and former school captain of Bede Polding College who now teaches at Evans High School in Blacktown, is being applauded by the Australia Record Industry with a nomination for the 2020 ARIA Music Teacher of the Year Award.
Dr Fienberg will find out on Wednesday, November 25 if he is an official ARIA winner, when the awards proceedings air on Channel 9.
Dr Fienberg runs a program at Evans High called Solid Ground, which provides Aboriginal and Torres Strait Islander students with a safe space to explore their cultural identities.
Through music, students are able to develop a sense of kinship which is particularly important for students facing intercultural trauma.
Dr Fienberg, who now lives in the Blue Mountains, graduated from Bede Polding College in South Windsor as school captain in 2004.
"I grew up in Kurrajong, where my mum still lives now. My grandfather used to run the newsagents in Richmond [on Windsor Street] and my dad was a well-known solicitor in Richmond, so I have been very much tied to the Hawkesbury for many years," he told the Gazette.
As a young boy, Dr Fienberg attended piano lessons in the Hawkesbury, where he was taught by Roslyn Mancy and Terry Sloane.
"They were amazing teachers and that triggered my love of music and music education," he said.
Dr Fienberg participated in numerous Hawkesbury Eisteddfods over the years, and would regularly accompany community choirs and play piano for residents at local nursing homes.
"At Bede Polding I was the first student at the school to do Music 2 - an advanced music subject," he said
He also helped compose the Bede Polding school song, which he said he believed was "still going" today.
"I had two very inspiring music teachers at Bede who were the number-one influence in me becoming a teacher. They were Jonathan Lewis and Carol Muscat," Dr Fienberg said.
"The school was incredible at providing opportunities for me to develop my interest in teaching and providing opportunities for other students to involve themselves in music in different ways."
He said a key strength of the Solid Ground program was that it involved non-indigenous friends of indigenous students.
"It brings along everyone in the school and makes them feel a part of the learning process and the culture, and it's a shared experience," Dr Fienberg said.
"I'm a non-indigenous educator so it's a partnership between the Aboriginal students and their non-indigenous friends to help support them and understand their culture better."
As well as nurturing students' music education skills in his classes, Dr Fienberg has worked to bring mentors including former ARIA Ambassador Thelma Plum and singer-songwriter Emma Donovan into the program. These experiences have given students the confidence to seek careers in the arts and in education as music teachers themselves.
---
Learn more about Bede Polding College Windsor