Bede Polding College wins 2018 UniSchools Steer Challenge
24 Sep 2018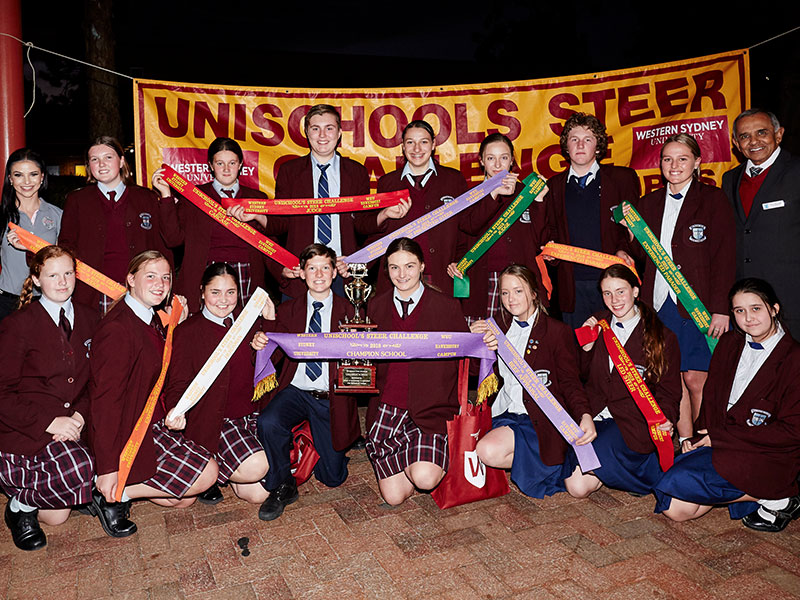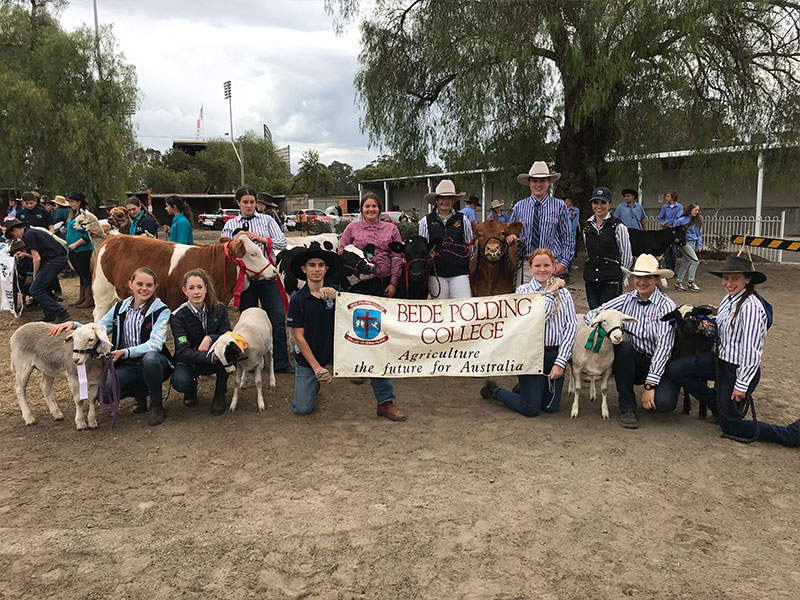 In what has been a stellar year, Bede Polding College has been named Champion School for the 2018 UniSchools Steer Challenge, which saw students raise a Poll Hereford steer for three months.
Bede Polding were also awarded Champion School across the 5 nominated categories of competition at this year's Penrith Show and were awarded Champion School for the highest score in livestock showing.
This marks the end of the shows for 2018 in what has been a busy but rewarding year for the Agriculture Show Team.
This is the sixth time Bede Polding has won the UniSchools Steer Challenge competition since Western Sydney University began hosting it in 2001.
Twelve schools from around Western Sydney competed including McCarthy Catholic College, Colo High, Arndell Anglican College and Richmond TAFE.
Each school was given a steer to raise for 100 days, and the teams were judged on their ability to raise, grow and train their calves.
Adjunct Fellow with the university's School of Science and Health, and organiser of the competition, Stephen Blunden, congratulated the hard work of the schools and all the teachers involved.
"There are unique challenges that go into raising a steer in suburban Sydney so it's been a great effort from the students involved," said Mr Blunden.
As part of the competition, the skills students had learnt from raising their steer was put to the test at the 'Live day' competition at Hawkesbury Campus on Friday, September 7.
Steers were judged in several categories including steer weight gain, and best presented steer. Students were also judged in the categories of parading and herding.
Agriculture teams from local schools also went head-to-head again at the Penrith Show's competition. This livestock-based contest saw students from schools prove their animal-handling skills and put on their best educational displays.
Visitors to the show would have been able to observe the students shoulder the responsibility for the frosty morning wash and polish of livestock ready for judging and have a yarn with the students about the animals under their care. A highlight was the grand parade, where students were 'a buzz' as they circled the complex with their animals and banners.
Educationally both competitions offers an authentic learning situation for pupils that can't provide within a classroom.

Bede Polding received the following results:
Uni Schools Steer Challenge
2nd Best Led Steer
4th Best Presented Steer
7th Place Novice Junior Parader-Nicholas Muscat
6th Place Experienced Junior Parader-Georgia Haskins
5th Place Novice Senior Parader-Olivia Jones
6th Place Experienced Senior Parader-Ryan Carpenter
2nd Place Junior Speaking Judge-Benjamin Anderson
6th Place Junior Silent Judge-Jessica Wright
5th Place Senior Speaking Judge-Isabella Sciberras
7th Place Senior Silent Judge-Samantha Gauci
2nd Place Carcase Competition
8th Place Weight Gain
4th Place Overall Beef Appraisal
3rd Place Herdsmen-Georgia Haskins and Crystal Watts
These placings gave us a total of 105 points which determined us the WINNER by 7 points of the 2018 UniSchools Steer Challenge and Bede Polding College was awarded the Champion School Trophy.
Penrith Show
2nd Place Dairy Calf Middleweight Section-Exhibited by Andrea Hollis
1st Place Beef Male Class-Exhibited by Benjamin Anderson
2nd Place Beef Female Class-Exhibited by Andrea Hollis
1st Place and 5th Place Prime Lamb-Exhibited by Jazmin Zarb and Isabella Sciberras
1st Place Male Poultry and 2nd Place Female Poultry, 4th Place Egg Competition
1st Place Novice Paraders-Tiffany Winder and 6th Place in the Paraders Final
3rd Place Novice Paraders-Benjamin Anderson
2nd Place Experienced Paraders-Andrea Hollis
3rd Place Experienced Paraders-Ryan Carpenter
4th Place Experienced Paraders-Jasper Anderson
As a result of these places we were awarded Champion School across the 5 nominated categories of competition that we entered our animals in. We were also awarded Champion School for the highest score in livestock showing.
The school would like to extend a huge thank you to all students and parents involved in the Agricultural Shows. We are extremely grateful for all your support and hard work.