Class of 2022 celebrates results and resilience
14 Dec 2022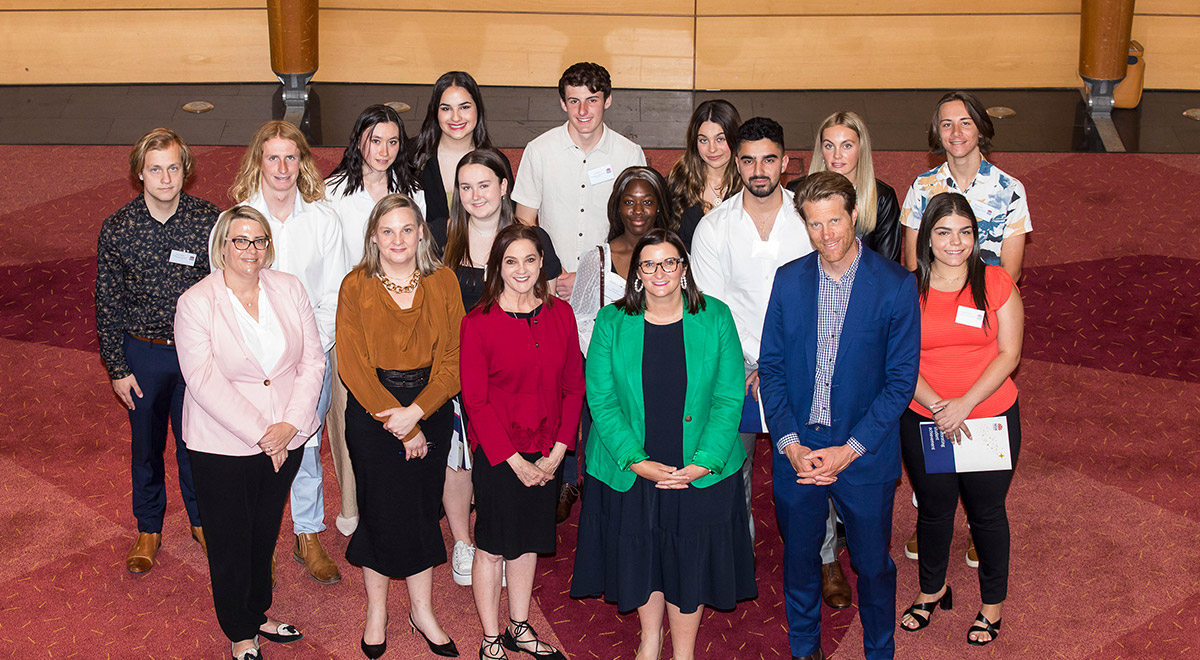 These Catholic school students achieved First-In-Course in the 2022 HSC.
Five outstanding Catholic Education Diocese of Parramatta students have topped the state in six HSC subjects. At the same time, Bede Polding Catholic College, South Windsor, has been recognised with a Ministerial commendation for resilience following on from multiple floods in the Hawkesbury region.
Catholic Education Diocese of Parramatta Director Learning Maura Manning is incredibly proud of the Class of 2022, acknowledging both excellence and endurance.
"Today is all about celebrating these students' outstanding results and the resilience of the Class of 2022," Maura said. "Each and every one of our HSC students has weathered a really challenging few years as a result of the COVID-19 pandemic."
"It's also wonderful to see Bede Polding Catholic College celebrated for their leadership despite facing frequent flooding."
The HSC First-In-Course ceremony also featured the inaugural Minister's commendation awards to acknowledge individuals or schools that have demonstrated great resilience, including Bede Poliding Catholic College, South Windsor, one of 14 schools in flood-affected regions of NSW recognised.
"As a proud part of the broader Hawkesbury community, Bede Polding College is honoured to be recognised for grit, determination and resilience through what has been a very challenging year," Principal Mark Compton reflected. "It's a defining moment for our Year 12 students to be celebrated by the Minister, and it speaks volumes about our strong College community too."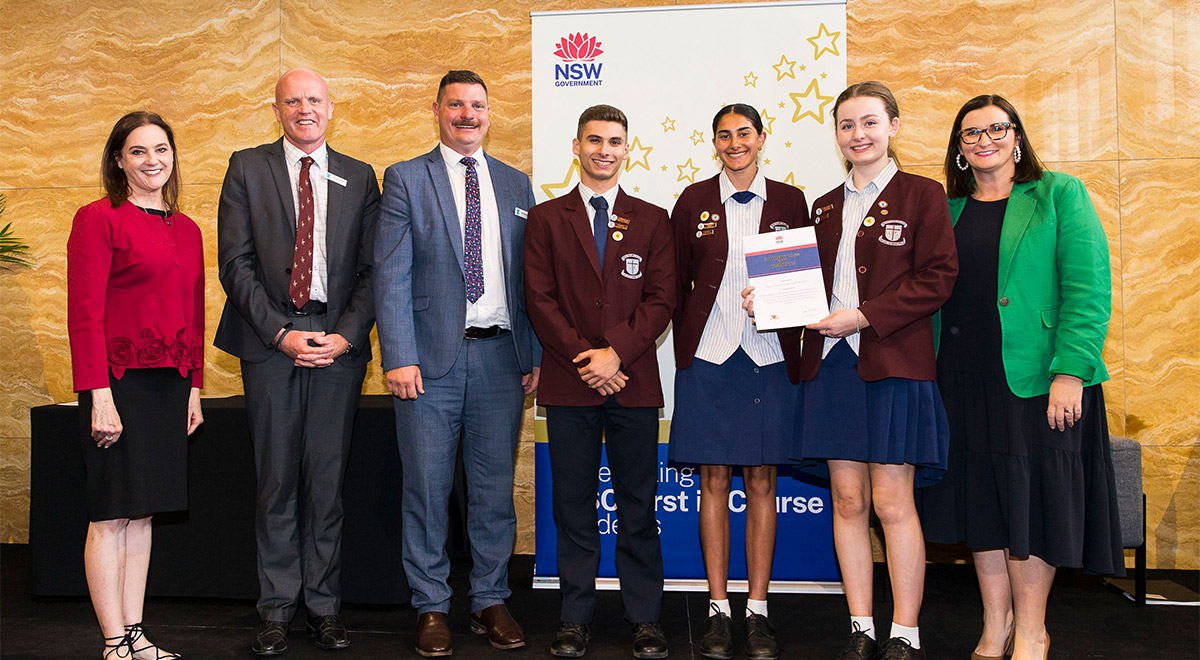 Bede Polding representatives together with Minister for Education Hon Sarah Mitchell MLC.
Bede Polding College representatives attended the event with NSW Minister for Education Hon Sarah Mitchell MLC, together with many of the First-In-Course students from Catholic schools across Western Sydney and the Blue Mountains.
Cerdon College, Merrylands, student Annalise Reynolds-Pace topped both Italian Continuers and Italian Extension.
Annalise has loved Italian since first learning the language in Year 7. She later had the opportunity to travel to Italy as part of a school immersion experience and has even used her skills to teach the family dogs commands in Italian!
"I'm so passionate about the Italian language," Annalise said. "I worked really hard but wasn't expecting to come first in course, and that made it really special."
Annalise was quick to thank her teachers, including Maria Marando who is "over the moon" about Annalise's achievement. Maria comments that the diligent student gave her studies "a hundred percent", often seeking extra chances to practice her Italian conversation skills outside of class.
"Annalise has a passion for language and culture,' Maria said. "She lived and breathed everything Italian, watching movies and listening to music too."
Annalise is planning to go to university to become a paramedic next year. She hopes to use her Italian as an exchange student and through future travel too.
Gilroy Catholic College, Castle Hill, School students Brooke Hughes and Liana Zerafa shared First in Course in Mathematics Standard 1 Examination.
Gilroy Catholic College Principal Cheryl Merryweather was thoroughly delighted with the result, acknowledging the dedication of Mathematics teacher Jen Wakeling too.
"I know the students in this class have worked incredibly hard, including these wonderful young women," Cheryl said.
It is lovely to see that the collaboration between teacher and students has brought such fabulous results.
Cheryl is looking forward to celebrating the achievements of all her students at tomorrow's Year 12 BBQ at the College.
St Andrew's College, Marayong, student Joanna Owusu came First in Course in Community and Family Studies
"I certainly wasn't expecting it at all," said Joanna. "When I got the call from NESA (NSW Education Standards Authority), I was screaming and ran downstairs to tell mum and dad and it was just so exciting and brilliant."
Joanna is confident her success in Community and Family Studies could compliment her interest in pursuing further studies and a possible career in health or education.
"Everyone at St Andrews is very proud of Joanna," said Principal Dr Stephen Kennaugh. "She's certainly a person who always kept trying to improve. She's such a hard worker and fully deserves this accolade."
St Andrews is hosting a special morning tea and BBQ to celebrate the Class of 2022 completing their schooling journey.
"We're so excited to have everyone back for the morning," said Stephen. "They get to share their results and celebrate their achievements. Our careers advisors will also be there to help students consider their options for the future."
St Columba's Catholic College, Springwood, student Joshua Phillips came first in Information and Digital Technology, a subject that he studied through Catholic Education Diocese of Parramatta's School of Now.
The School of Now takes an innovative approach to learning, connecting students from different CEDP schools across Western Sydney and the Blue Mountains to an expert teacher in their area of unique interest. Through increased use of technology and face to face mentoring, students in years 11 and 12 are able to undertake small candidature and specialist subjects that may not be available at their home school.
"The School of Now enabled me to do a subject that wasn't offered at my school," said Joshua. "It allowed me to study something that I was really passionate about and led to me getting this result."
"Josh's success highlights how beneficial it is to be part of a great system of schools such as CEDP (Catholic Education Diocese of Parramatta) because he did this course through the School of Now," added Principal Phil Scollard.
"Super proud of Josh and happy for him but it was really his hard work that got him to where he is in topping the state," said Michael Kelly, School of Now Teacher. "He put in all the effort and really embraced the School of Now model to make it work for him."
"This really highlights how the School of Now can be incredibly successful for students who have a mature approach to their own learning."